A few weeks ago I showed you all how the hubs and I made our
kitchen lighting
. Today I want to show you how we made our cabinet knobs, for next to nothing!
we made ours out of river rocks we collected from the banks of...you guessed it, a river!
creek rocks work well too : )
each knob is unique and handmade, and if you get sick of it you can switch them out.
I love how each rock is a different size and shape, plus look how great they look with my drawer pulls
Restoration Hardware pulls I got for .50 cents each at their store closing sale!
So do you wanna make your own?
Start with these, I think they are called machine bolts. I bought mine at ace hardware with the screws to mount them for .60 cents each, and they already have the oil rubbed bronze finish!
then I mixed my favorite 5 minute epoxy on a paper plate with a toothpick, very technical!
I applied a little epoxy to the back of the clean rock and a little to the clean flat face of the hardware
After they dried for a few minutes I turned them over so the rock was on top, I figured the weight of the little rock would help set the epoxy, I dunno I'm crazy!
when they have dried overnight they are ready to be affixed to your cabinets and adored! the best part about the machine bolts is that they are the perfect length for you to be able to get your fingers behind to open the cabinet door. We have had ours on for a long time and have never broken one.
*Before starting the process I cleaned my rocks in hot soapy water, rinsed them and let them dry for a few days. Then just before applying the epoxy I cleaned just the glue areas with rubbing alcohol. The cleaner the better!
** You want to find rocks that look like they are not made of conglomerated mud or sand as they are not strong enough. The harder the stone the better it works, a good test is to try to scratch it with a knife, if it scratches easily find a different rock.
***If you want, you can spray them with a clear coat so they look wet, We chose to leave the rocks the way they were but they do look more colorful with the wet look
**** You can do this with anything, not just rocks! I have tried tiles, glass, shells and all sorts of items your imagination is your only limit!
I'll be linking this up in a few places later today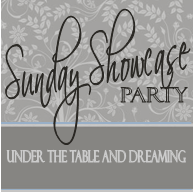 Sticks and stones may break my bones but Peace will never hurt me!